Wascana Lake
---
Wascana Lake is situated in Wascana Park, which is a beautiful 2300 acre urban greenspace and waterway park located in the heart of our city. The park is within walking distance to both downtown Regina and is only a 5 minute drive from the airport and other amenities. Wascana Lake provides the advantage of being a still water lake which is well sheltered from winds. The venue provides access to an outstanding race course which is seven lanes wide and 1000 meters in length. The 1000 meter starting line is close to the north shore of the lake and the finish line for all distances is at Pine Island on the south shore of the lake.
History
Wascana Lake was originally created in 1883 by damming Wascana Creek between Angus and Rae Streets, 1½ blocks west of the present Albert Street dam and bridge, to provide a "stock watering hole." The Lake was soon turned to recreational use and Reginans took to the lake for sailing and canoeing. Its size was slightly reduced in 1908 when a new dam and bridge were constructed in their present location.
The lake continued for a time to be used as a domestic water supply and for stock watering; it also supplied the new legislative building. A longer term effect resulted, however, when lake water was used to cool machinery in the power plant (now the Saskatchewan Science Centre) that was built in the eastern sector. Heated water returned to the lake, causing that sector to remain ice-free through the winter, and several species of migratory birds made it their year-round habitat. In 1956 the eastern sector of the lake was declared a Federal Migratory Bird Sanctuary.
Wascana Lake was drained and deepened in the 1930s as part of a government relief project. 2,107 men widened and dredged the lake bed and created two islands using only hand tools and horse-drawn wagons. During the late 20th century, sediment accumulating at the bottom of the lake eventually reduced its depth by 35 per cent, which had reached 1.5 metres by 2003. In addition, there was an abundance of weeds throughout the lake.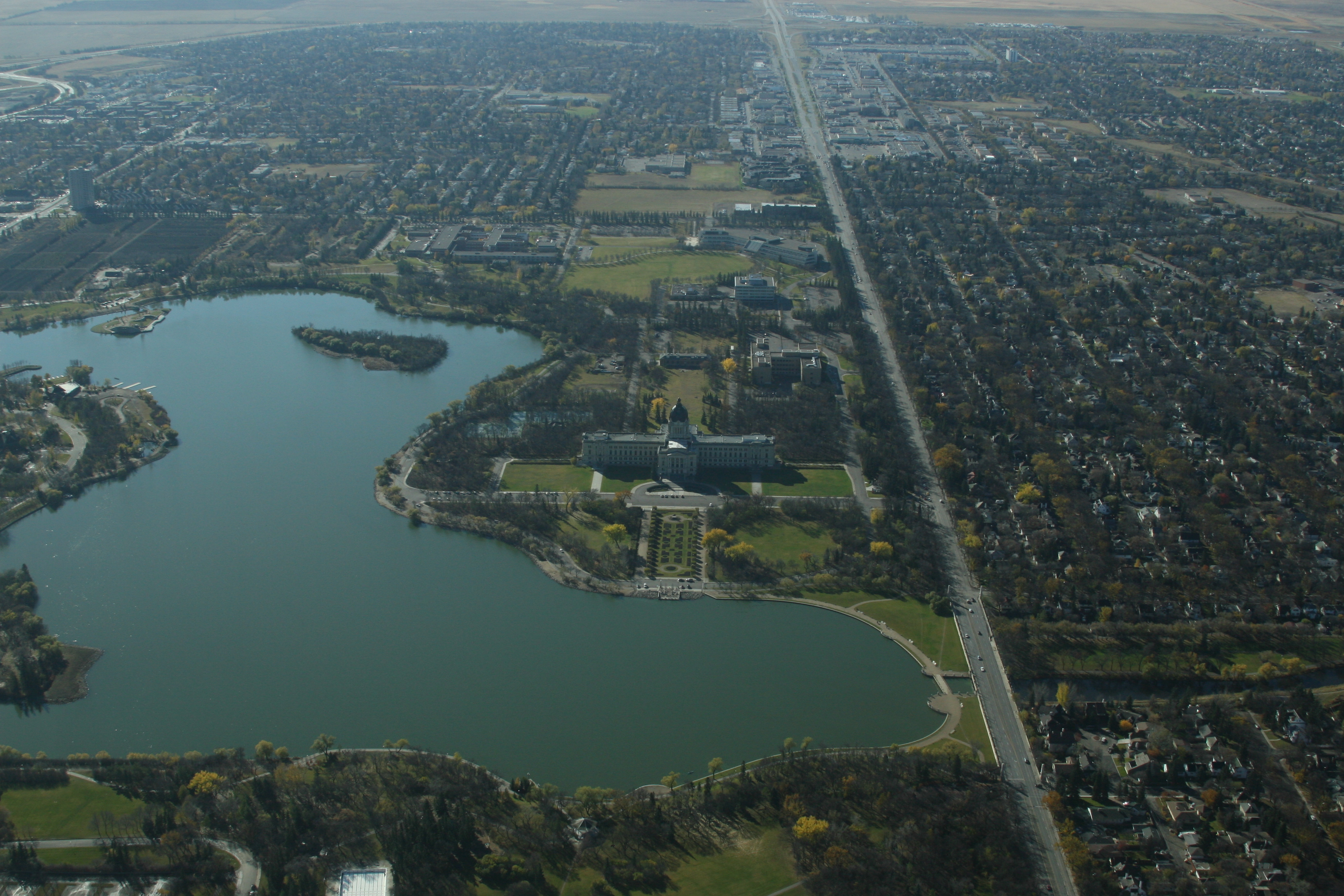 The Big Dig
The Wascana Lake Urban Revitalization Project, known locally as the Big Dig, was an $18 million project to deepen Wascana Lake.
During the fall and winter of 2003-2004, Wascana Lake was again drained and dredged to deepen it by an average of about 5 metres (16 ft). The Big Dig, was primarily to decrease aquatic weed growth, improve water quality, and allow more competitive and recreational rowing, canoeing and paddling during the summer months.
The lake was dredged to an overall depth of 5.5 metres with a deeper section of 7.5 metres serving as a fish habitat. Over 1.3 million cubic metres of soil was removed from the lake bottom between 6 January and 21 March with crews working 24 hours a day.
The Big Dig also included the addition of a new island and general re-landscaping around the lake. Pine Island includes a bridge for pedestrian access, as well as a pedestrian path and a waterfall and provides a great location for spectator viewing of canoe/kayak and rowing races hosted on Wascana Lake. In 2014, Wascana Racing Canoe Club, the Regina Rowing Club and Wascana Centre Authority, with significant financial support from the Regina Hotel Association, completed the construction of a Finishing Line Facility on Pine Island. This makes Wascana Lake a world-class venue for competitive canoe/kayak and rowing competitions.